The InCHOIR Informatics Group at Columbia University

Director:
Ron Levitan

System Developers:
Vincent Dobrev, Rami Habas, Edlira Kumbarce, Terry Ye, Rachel Sturm
The Informatics Group at the International Center for Health Outcomes and Innovation Research develops and maintains systems that help investigators, clinicians and hospital administrative staff to manage their information. For more than ten years we have specialized in the rapid development of secure data management systems for corporate and government-sponsored healthcare research projects. The laptop-based data entry system that we developed in 1998 for the NHLBI-sponsored REMATCH trial processed more than 18,000 electronic forms from 20 clinical centers. An FDA submission of the trial data resulted in the approval of the Thoratec Heartmate left ventricular assist device (LVAD) as the first LVAD treatment for end stage heart failure.
Some of our current web-based data management projects include the NINDS-sponored ARUBA Trial, which collects and validates clinical data for nearly one hundred hospitals in the Americas, Europe and Australia and the NHLBI and NINDS-sponsored Cardiothoracic Surgical Trials Network, which will manage data from three new clinical trials later this year.
The team also develops web-based data management solutions for healthcare enterprises. The MERS-TH medical event reporting system that began as an AHRQ-sponsored research project is now the official event reporting system for six institutions within the New York and Prebyterian hospital network and has processed tens of thousands of patient safety reports. It features a patent-pending report routing and access control system and is available commercially.
Each large scale data management project is based on a custom-built, web-based data entry and document management site with fine-grained access control and logging to support regulatory and GCP compliance. Other project deliverables typically include a data dictionary, system management SOPs, a system validation report, on-line user's manual, document management site and home page for the project, and a system training video on CD.
We can integrate web forms data with a variety of external sources such as bar code readers, bar-code routed faxes, DICOM and digital camera images, external SQL databases, email messaging, hospital HL7 interfaces and Microsoft Office files such as Excel and Access.
For workgroups at Columbia we can also provide intensive desktop and server IT support to ensure regulatory and institutional data management compliance. We house a number of rack-mounted Linux and Windows based servers and tape libraries behind a private firewall in our data center, and we support wireless Microsoft Exchange services for Treo and Blackberry devices.
For more information about our Informatics Group contact the InCHOIR main office at 212-305-9100.
Some of our most recent web-based system projects

The ARUBA Trial
PI (Clinical): J. P. Mohr MD (Dept. of Neurology, Columbia University)
PI (Data Coordinating Center): Alan J. Moskowitz MD (InCHOIR, Columbia University)
Sponsor: NINDS
Medical management versus invasive therapy for improving the long-term outcome of patients with unruptured brain arteriovenous malformations. We built a web-based system to manage data collected on 25 distinct web forms, documents and radiological images for eight hundred patients in nearly one hundred hospitals in Europe, the Americas and Australia. Workflow requirements include electronic signatures with full audit trail, drag and drop MRI image uploads, core radiologist and PI approvals for some screenings, Fedex package tracking, data correction management, in real time across 24 time zones. Other deliverables include a user manual and training video on CD for site initiation and 24 hour technical phone support.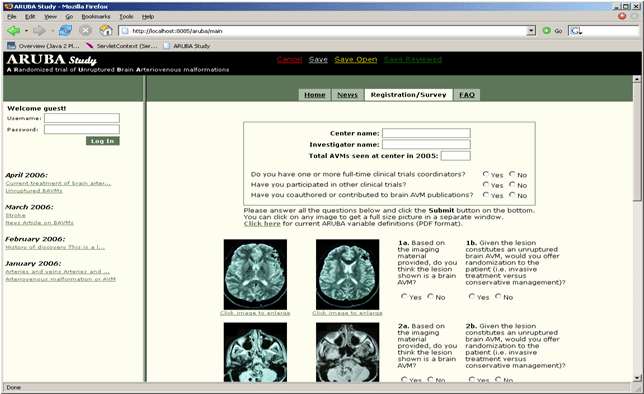 Registration Page from the ARUBA Trial EDC System

LVAD SCCOR
PI: Eric Rose MD (Dept. of Surgery, Columbia University)
Sponsor: NHLBI
A multi-study project to address the biology of long-term mechanical ventricular support and the major limitations of Left Ventricular Assist Devices (LVADs). We engineered a workflow for multi-center specimen processing with a core lab, coordinated software development with two IT contracting firms, and built a secure project document management site to control access to patient and investigator documents for each study.

MERS-TH
PI: Harold Kaplan MD, Dept. of Pathology, Columbia University
Sponsor: Agency for Health Care and Quality (AHRQ)
A web-based medical error reporting system for both near miss and sentinel events. Hospital medical errors often involve multiple locations and services in a single incident. We developed a patent pending access control system that precisely routes event reports to all relevant personnel across a multi-hospital network while strictly protecting confidential data from unauthorized access. Other features include a variety of ad-hoc query and export tools, a web-based charting tool for drawing causal trees, and sophisticated management of events with multiple reports.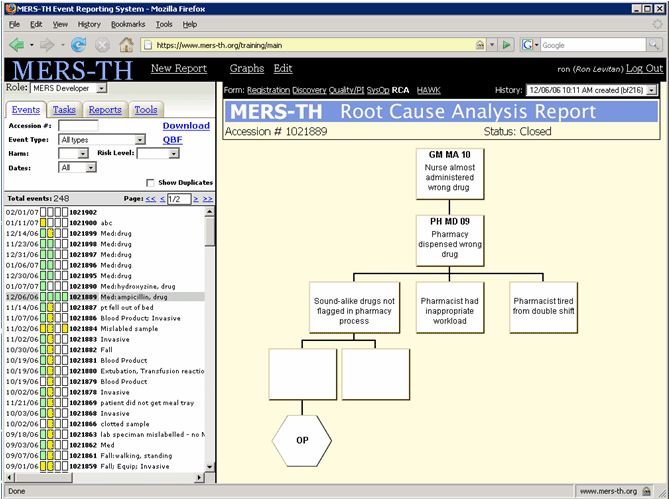 Our system has been adopted as the official event reporting system for six institutions within the NYP Hospital Network, and we continue to develop novel patient safety informatics features for MERS and support commercial MERS installations in the US and Europe under a development contract with MERS International BV, a patient safety company based in the Netherlands.

KidsNMD
PI: Michael Vitale MD, Dept. of Orthopedic Surgery
A pilot outcomes registry for pediatric neuromuscular diseases. With a budget of $20,000 we built an attractive multi-hospital data management website for this pilot project to capture and validate 1132 variables.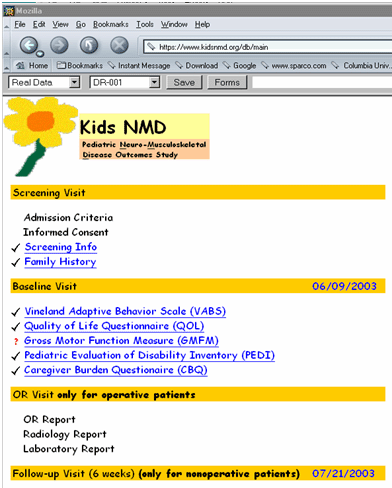 MERS-TM
PI: Harold Kaplan MD, Dept. of Pathology, Columbia University
Sponsor: NHLBI
A web-based error reporting system for hospital blood blanks. We developed a distributed user account management and access control system that enables hospitals to share their event data anonymously for benchmarking while maintaining full control over report details for regulatory compliance. We continue to develop and support MERS-TM for hospitals in the US, Canada and Ireland.